2016 Atlantic Hurricane Season Recap
Satellite Image of Hurricane Matthew October 2016
Now that we are into December, the official 2016 Atlantic hurricane season has come to a close (the season runs from June 1 to November 30, when conditions are typically most favorable for tropical development in the Atlantic). However, it's important to note tropical systems can form at any time of year and those living along the coast should always be prepared. During the 2016 season, the Atlantic played host to 15 named storms, 7 of which became hurricanes, and 3 of which became major hurricanes (category 3 or higher). It was one of the more impressive hurricane seasons in recent years, resulting in the end of the major hurricane landfall drought in the US that had existed since the record-setting 2005 season. Let's talk about some of the more notable storms we saw this year.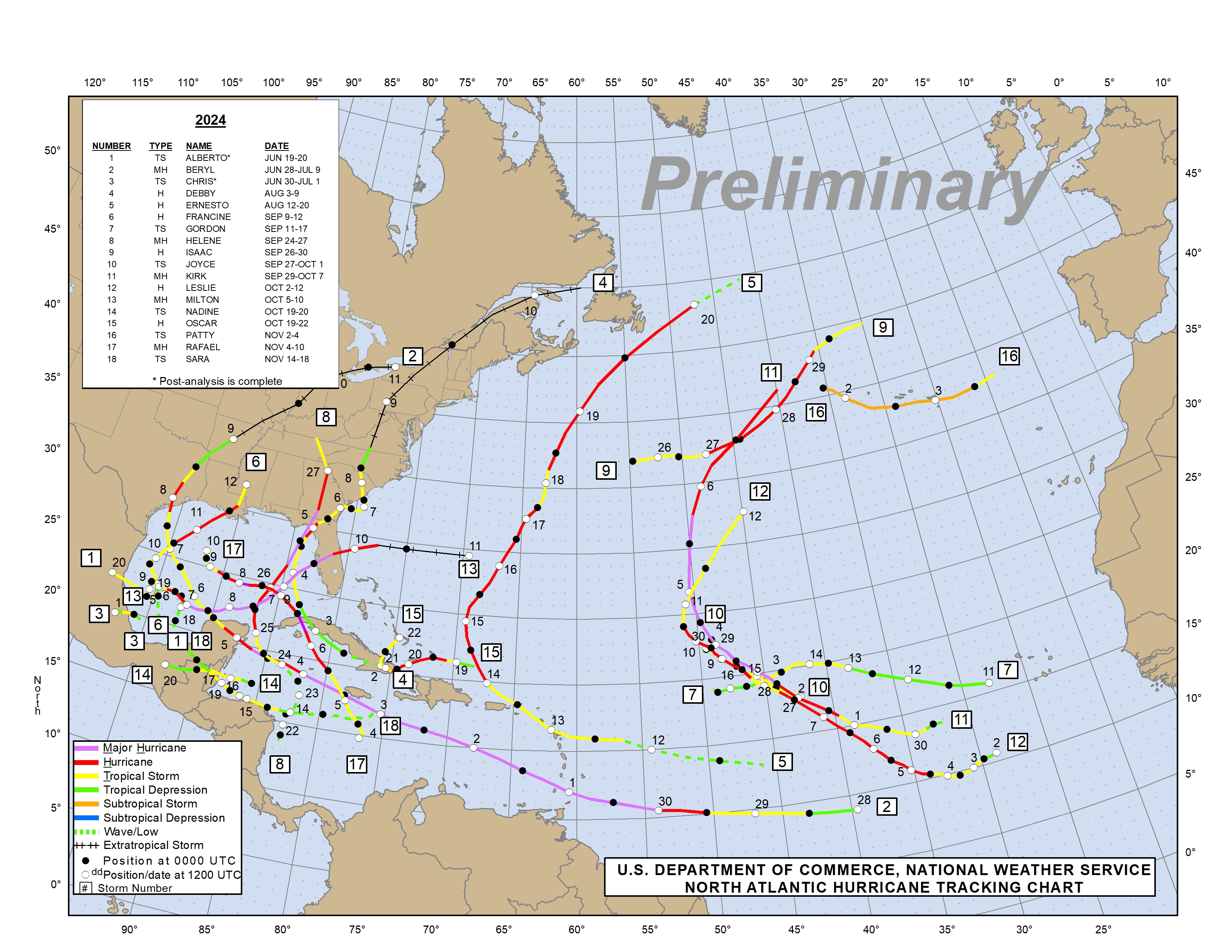 Before most hurricane outlooks were even issued for the upcoming season, Hurricane Alex made its name known as one of the very few January hurricanes to ever form on record in the Atlantic. In fact, since 1851, we've seen just four other storms form in January and Alex was the first one since 1955. After focusing on this historic storm, we didn't see another tropical system until the months of May and June, where Tropical Storms Bonnie and Colin both hit the Southeast U.S. Danielle and Earl then impacted Central America while Fiona and Gaston remained "fish storms" and stayed harmlessly out to sea as we headed through August and into September.
Late in August, we watched Tropical Storm Hermine in the Gulf of Mexico strengthen quickly into a category 1 hurricane and make landfall in the Big Bend area of Florida on September 2nd. Hermine became the first hurricane to impact Florida's state capital of Tallahassee since 1985 and Florida's first land falling hurricane since Wilma in 2005. After pushing through the Southeast U.S. and into the Atlantic Ocean, Hermine then became a forecasting challenge for meteorologists along the mid - Atlantic and Northeast coast. Once it moved off the coastline of North Carolina, it pushed northward and meandered for several days off the New Jersey coast and was feared to bring strong winds and dangerous coastal flooding for the Labor Day weekend holiday. Luckily, the Northeast escaped relatively unscathed and Hermine traveled well off shore before losing tropical characteristics.
Radar of Hurricane Hermine September 2016
After Hermine came Ian, Julia, Karl, and Lisa. Of those storms, all remained tropical storms, and only Julia affected the United States. While Julia was the first tropical system on record to form over Florida, it remained a weak tropical storm with peak winds only reaching 40 mph. However, it packed a punch and produced over a foot of rainfall in the Carolinas and Virginia leading to widespread flooding.
Then, in late September and early October Hurricane Matthew, the most notable tropical system of the 2016 season, formed. Matthew tracked far south of many Caribbean Islands before making a sharp right-hand turn to the north. After rapid intensification, it became the first category 5 hurricane in the Atlantic since 2007. At peak intensity, sustained winds roared to 160 mph and its pressure fell to 934 mb. Matthew slammed into Haiti and Cuba and devastated areas of the Bahamas on its approach to Florida. It neared West Palm Beach, FL on October 7, 2016 as a category 3 storm and dumped heavy rain and produced very strong winds as it paralleled the Florida shoreline up thru Georgia. It gradually weakening to category 1 strength before becoming the first landfalling hurricane in South Carolina since Hurricane Hugo in 1989. After producing record flooding across eastern North and South Carolina and Virginia, Matthew continued out to sea and dissipated. Matthew was responsible for over 1,600 deaths, many occurring in Haiti.
Precipitation Track of Hurricane Matthew October 2016
Following Matthew was Hurricane Nicole, which developed while Matthew was still a hurricane in early October. In fact, this was the first year since 1964 that two hurricanes of category 2 strength or greater existed together in the Atlantic. Nicole mainly stayed out to sea but did make landfall in Bermuda at category 3 intensity. About a month passed between Nicole and our latest record breaking storm, Hurricane Otto, most recently pushing into the coast of Nicaragua and Costa Rica in late November as a category 2 hurricane. Not only was it the first tropical system since 1996 to pass over Central America and enter the Pacific without losing tropical characteristics but it was also the first Atlantic hurricane on record to make landfall in Costa Rica.
While we closed the record books on the 2016 Atlantic hurricane season, keep an eye out for WeatherWorks' tropical outlook in the spring for our thoughts on the 2017 hurricane season. And finally, stay tuned to our Facebook and Twitter pages for the most up-to-date information regarding the tropics and day-to-day weather in the Northeast and Midwest U.S.
Recent Blogs
Tuesday Jan 8, 2019 by
mikem